Seasoned Baby Octopus (Chuka IIdako)
Toni002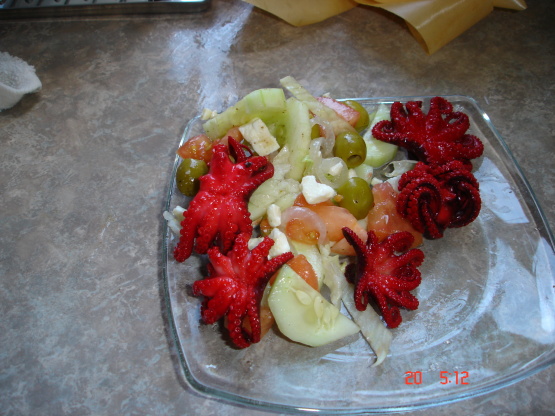 I found these at a market in Hawaii last year and really liked them. When I got home I tried to find a recipe for them on the web.There doesn't seem to be one. With a little trial and error I came up with this recipe and it is pretty close to the real thing. Give it a try. Hope you like it.
2

lbs baby octopus (cleaned)

1

cup teriyaki marinade (I use Mr.Yoshidas)

2

tablespoons black bean paste
1⁄4 cup soy sauce

2

tablespoons mirin
2⁄3 cup brown sugar (packed)

1

garlic clove (minced)

1

teaspoon ginger (grated)

1

tablespoon rice wine vinegar

2

tablespoons toasted sesame seeds
1⁄2 cup sesame oil (black)

2

green onions (Chopped)

1

tablespoon chili-garlic sauce

15

drops red food coloring (optional)
Combine all of the ingredients.
Marinate for 4 to 6 hours in the refrigerator.
Strain out the octopus. Reserving the marinade.
In a wok or large sauce pan bring the reserved marinade to a boil.
Turn the heat to low and allow the sauce to cool slightly.
Add the octopus and cook slowly for 2 to 4 minutes.
The octopus are done when they firm up and the tentacles curl.(Be careful not to over cook or they will get tough and rubbery.).
Remove the octopus from the sauce. Discard the sauce.
Place octopus in a bowl with a tight fitting lid. Refrigerate. They are best served cold in my opinion.
Enjoy!