MomLuvs6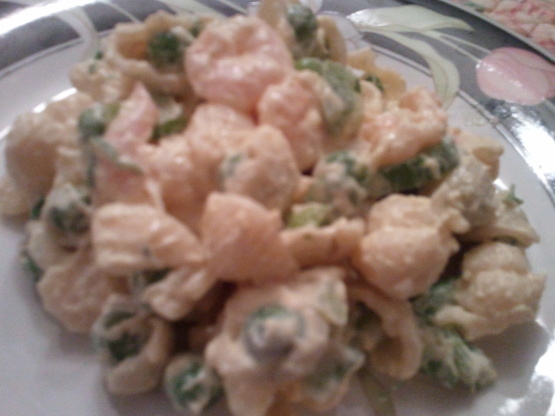 This came from an old newpaper clipping - it's a yummy summery meal-in-a-bowl salad!

I made it as written, except I forgot the frozen broccoli, so I added frozen peas, that I did not cook, but thawed. My family enjoyed this salad, but my husband did ask for me to make it again with the broccoli.
Cook the macaroni according to package directions; drain, rinse with cold water, and drain well.
Toss macaroni with oil and lemon juice. Add celery, green pepper, and onions.
Make dressing by combining yogurt, mayonnaise, mustard, salt, hot pepper sauce, and parsley. Toss with chilled macaroni. Cover and refrigerate at least 2 hours or overnight.
Cook broccoli until tender-crisp; drain and cool.
Put shrimp and broccoli in a bowl and toss with French dressing. Cover and chill.
About 1/2 hour before serving, add broccoli/shrimp mixture to macaroni and toss lightly. Chill until ready to serve.