Parsley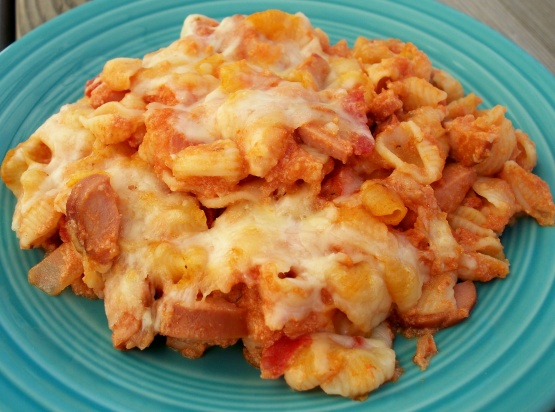 This looks very kid friendly, from August BHG 2007.

I loved the sauce, but next time I think I would add kielbasa or some other type of sausage instead of the hotdogs. I made it for my 11 year old son and 2 of his friends when they were over for a sleepover. I got very mixed reviews. One seemed to really like it and cleaned off his plate, another just picked at it, and my son really enjoyed the pasta and sauce, but not the hot dogs so much. Again, I think it would be a favorite if I substituted a different type of meat, and I will try that. :-)
Preheat oven to 350 degrees F.
Prepare macaroni according to package directions; drain and set aside.
Meanwhile, in a large skillet cook onion and garlic in hot butter over medium heat until nearly tender.
Stir in hotdogs and cook until lightly browned.
Stir in spaghetti sauce and tomato.
Bring to boiling. Remove from heat.
Stir in sour cream and half of the cheeses.
Stir mixture into drained pasta.
Spoon into 2-quart casserole.
Cover and bake about 30 minutes or until hot.
Uncover and sprinkle with remaining cheeses. Bake, uncovered, 5 minutes or until cheese melts.