Drice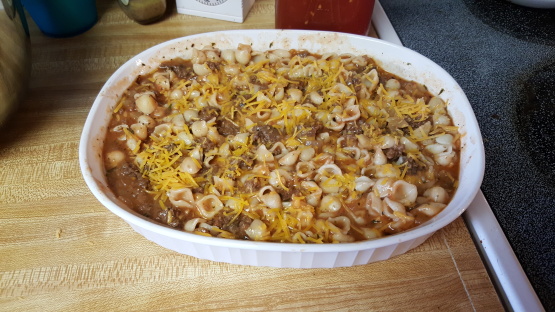 This is a dish my mom made alot when we were growing up. I recently started making it for my husband and he LOVES it; even my 18-month old daughter cleans her plate when I make it.

We were not fans of this recipe. I didn't like the mushroom soup in it and the tomato sauce did not have any seasoning. I doctored it up by adding some Ragu and mozarella cheese. By the time I was done, I should have just browned beef, poured on Ragu, sprinkled with moz and baked.
Preheat oven to 350 degrees Fahrenheit.
Spray a large casserole dish with cooking spray.
(I have a 4 quart casserole dish I use for this.) In a large skillet, brown together ground beef and onion; drain grease and return to pan.
Add tomato sauce, mushroom soup, 1/2 cup of the cheese, salt, pepper, and garlic.
Simmer uncovered.
While meat mixture is simmering, cook the pasta according to package directions.
Combine the pasta and the meat mixture together in the casserole dish; mix well.
Sprinkle remaining cheese on top.
Bake for 20 minutes or until cheese is bubbly.