Seared Tuna in Wasabi Sauce
Rita1652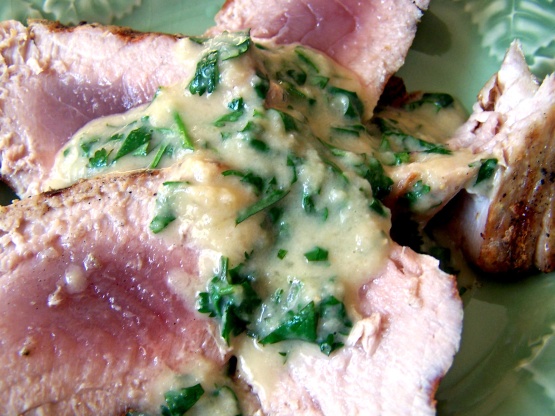 This tuna is seared and still raw insde so be sure to get sushi quality tuna. I myself like it that way!

Very good! I used cilantro and the flavors were perfect. I normally do the Ahi Tuna with the wasabi butter which is still my favorite. I'm cooking that next week and wanted to do something different.
Combine wine, lime, onion, ginger and garlic in a saucepan over medium heat. Simmer to reduce to about 2 tablespoons.
Place reduced sauce in blender with the butter, soy and wasabi and blend till smooth and butter is melted.
Place in a bowl.
Stir in cilantro.
Preheat grill high. It needs to be very hot!
Mix olive oil and 1 tablespoon sauce together. Brush tuna steaks with the sauce and oil mixture.
Grill for 90 seconds then turn and continue grilling for 90 seconds more.
If you just want the tuna seared remove from grill now. Otherwise continue grilling for 1 minute on each side again.
Serve tuna topped with the yummy sauce.