Seared Sirloin With Sweet Balsamic Sauce
Boomette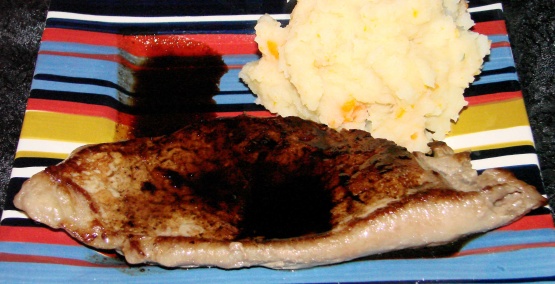 This recipe is from "Quick and Eay Low-Carb Cooking" by Nancy Hughes. It was emailed to me and sounded like something I would enjoy. As with most recipes, if I leave it sitting around it will forever be lost in a sea of papers.

Paula another Winner! Used this sauce for DS homecoming steak dinner and he loved it!!! WOW and WOW! Such flavors from so few ingredients and such a quickie to make! I did use lots of carmelized onions (double) as we don't do mushrooms but love onions. I plan to use this sauce on a pork loin or chops as well. The flavors were robust but nor overpowering, you could roll the flavors around in your mouth with each bite but you tasted the steak first. Wonderful! Made for AUS/NZ Swap #44
Over medium high heat, warm a nonstick skillet until it sizzles when water drops are dropped on it.
Add the meat and cook for 4 minutes; turn and cook an additional 4 minutes or until beef is done.
In a small bowl, combine the remaining ingredients; stir to blend and set aside.
When the meat is done, place on cutting board and allow to rest while preparing the sauce.
Add the sauce mixture to pan, bring to a boil over medium high heat and cook for 1 to 2 minutes, scraping bottom and sides of skillet to loosen any residue.
Thinly slice the steak place on serving plate and top with sauce.
Serve immediately.