Seared Scallops With Zucchini and Carrot Cakes
CarolAT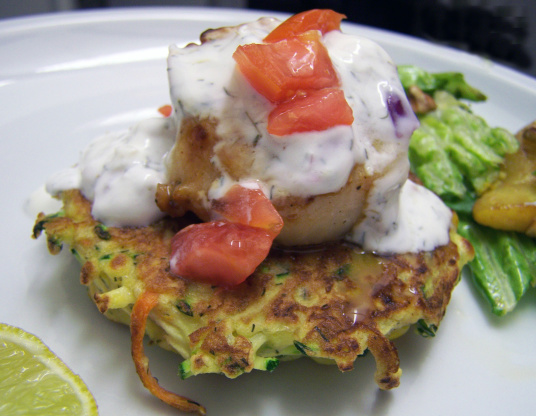 I got this from Cooks for Cause cookbook benefiting Susan G Komen foundation. This was contributed by the owners of the Savories Bistro in MN. This is really quite good!

I am not particularly fond of scallops, but this was fantastic! Someone complained of the strong dill - might I suggest using an herb that you like better. I had no fresh dill but did have fresh basil so used that and loved it. Would give it 10 stars if I could.
For the cream, combine sour cream, heavy cream, lemon juice, lemon zest, dill, scallions, salt and pepper in a bowl and mix well.
For the zucchini carrot cakes, twist the zucchini and carrots in a dry kitchen towel to remove excess moisture.
Mix with the onion, corn, eggs and dill in a bowl. Whisk in the flour, salt and pepper. Let stand for 20-30 minutes.
Heat the butter in a saute pan. Add the zucchini mixture by 1/4 cupfuls and saute until golden brown on both sides. Keep warm.
For the scallops, pat scallops with paper towel to dry well. Sear in a hot skillet until golden brown on both sides. Season to taste.
To assemble, place one vegetable cake on each plate and top each with 1 scallop. Top with the dill cream and finely chopped tomatoes.