Seared Scallop Thai Noodle Soup
Maito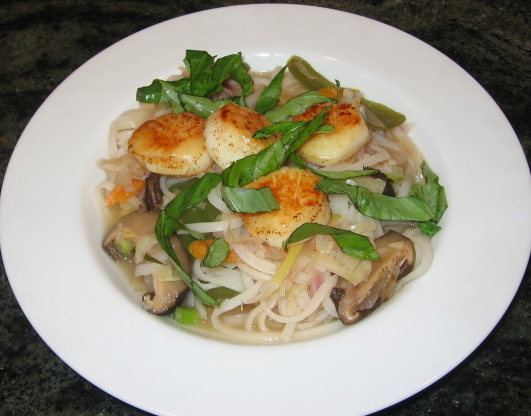 We loved this! If you want it spicy, leave some of the seeds of the chiles in. The cabbage blends into this soup. Try whatever veggies you like in it. I like to eat the pieces of ginger and lemon grass, but some people might set them aside in their bowl. The lime leaves have a unique and delicious flavor, but if you can't find them, you could try making it with lime zest. If you don't like scallops, shrimp would probably be a good substitute. Based on a Ming Tsai recipe.

This soup bursts with flavour and is so easy to throw together. I had to make some substitutions but it worked out just fine. I used 2 tsp of minced ginger (jar), 1 tsp lemon grass herb paste, 1 tsp lime zest and for the lime juice I used 5 Tbsp in total. Used regular mushrooms and a mix of sliced leeks and green onions instead of scallions. I ended up using a package that was a mix of small shrimp and prawns and we loved the combination in this soup. The joys of living up north when finding the right ingrediants can be hit & miss. Thank you for sharing this recipe - we'll be enjoying this a lot on rainy days and cold snowy ones too.
1⁄2 lb rice noodles, prepared as directed (I like thick Thai noodles)

1

tablespoon canola oil, divided use

9

slices gingerroot or 9 slices galangal, 9 thin slices using a peeler
1⁄2 red onion, diced

3

jalapenos or 3 serrano chilies, de-stemmed, deseeded, quartered

2

stalks lemongrass, white part only, large slices

5

kaffir lime leaves, middle stem removed, sliced

3

cups cabbage, shredded
3⁄4 cup carrot, sliced

18

shiitake mushrooms, sliced (fresh or dried rehydrated)

2

teaspoons fish sauce

3

(15 ounce) cans chicken broth
3⁄4 lb sea scallops
ground pasilla chile powder (optional)
1⁄4 cup scallion, sliced, white and light green parts
1⁄2 cup basil leaves
Prepare noodles according to package directions. Some rice noodles you soak in cold water, others in hot water, others you boil briefly.
Heat a wok or large saute pan on high with 2 tsp of canola oil. Saute ginger, onion, chiles, lemon grass and lime leaves until soft, about 3 minutes.
Add carrots and cabbage and cook 2 more minutes. Add shiitakes and cook an additional minute.
Add fish sauce and chicken broth. Simmer about 15 minutes, to let liquid reduce a bit.
In the last 5 minutes of cook time, heat a small skillet on medium with 1 tsp of canola oil. Dry and season scallops with a light sprinkle of salt and chile powder. Pan sear approximately 3 minutes per side.
Add lime juice and white pepper to broth and check for seasoning. Be careful not to add too much white pepper, as it is pretty potent. Add noodles and scallions to broth and heat.
Serve noodles topped with scallops and basil.