Seared Salmon on Herbed Mashed Peas
karenury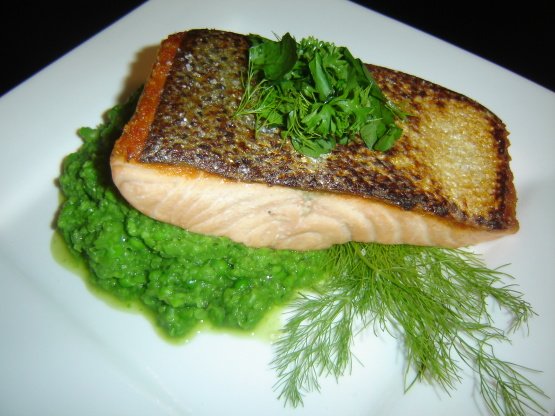 Delicious and different pairing for this favorite fish. Add pasta or rice for a complete meal. From Nov. 2005 Cooking Light.
Heat butter in a medium nonstick skillet over medium heat.
Add leek; cook 5 minutes or until tender, stirring occasionally.
Add water and peas; cook 5 minutes or until peas are tender.
Place pea mixture in a food processor.
Add basil, juice, and tarragon; process until smooth, adding more water if necessary.
Stir in 1/4 teaspoon salt and 1/4 teaspoon pepper; keep warm.
Sprinkle salmon with remaining 1/4 teaspoon salt and remaining 1/4 teaspoon pepper.
Heat a nonstick skillet over medium-high heat.
Coat pan with cooking spray.
Add salmon, skin side down, and cook for 6 minutes or until golden.
Turn, and cook for 8 minutes or until fish flakes easily with a fork or until desired degree of doneness.
Serve salmon over warm mashed peas. Garnish with lemon wedges, if desired.