gailanng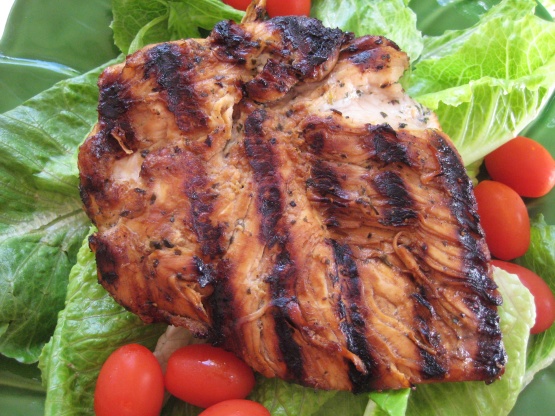 From an old recipe card that I came across during a clean up, looks good. Times are estimated but have included 30 minute marinating time in the cooking time.
Place the chicken breasts side by side in a shallow dish (non reactive, not metal).
Mix together the lemon juice, garlic, honey, balsamic vinegar, 1 tablespoon olive oil and 1 tablespoon chopped parsley and pour over the chicken.
Turn the breasts over until well coated and the marinate in the fridge for 30 minutes.
Brush a non stick griddle or skillet/fry pan with the remaining oil and heat until very hot.
Lift the chicken breasts from the dish (reserve the marinade) and and put them in the pan/griddle and sear quickly for 1 to 2 minutes on each side until the chicken browns, lower the heat and add the reserved marinade cook for about 10 minutes or until the chicken is done, turning the breasts once or twice.
Once cooked transfer to serving plate and cover each with an equal amount of the zest and the remaining parsley.
Cut the lemon into wedges and serve with the chicken.
Suggested you accompany with rice and steam vegetables.