Seared Encrusted Tuna Steak Salad
Thorsten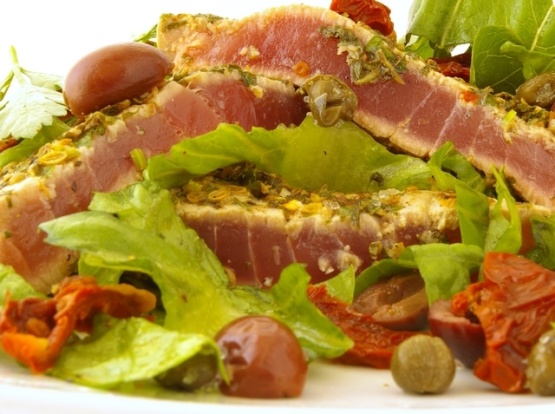 This recipe is featured in the book "The Naked Chef".

I like the recipes from Jamie Oliver and this one is no exception. The herb-spices rub used here gives the tuna an extraordinary taste, spicy throught the chili and fresh through the coriander. Cilantro and basil do the rest and a wonderful fish dish is made. Don't overcook the tuna. I think this is the most important part here. And combine with salad, olives and sun-dried tomatoes. I added some capers. Great
1

small dried red chili

1

tablespoon coriander seed
1⁄2 clove garlic

1

cup basil, finely chopped

1

cup cilantro, finely chopped
lemon, juice of
freshly ground black pepper

4

tuna steaks (8-10 oz each)
salad greens
olive
Smash up the chili and the coriander in a martar and pestle.
Add the garlic, basil, cilantro, and lemon juice to taste.
Mix together, and season.
Lay out tuna steaks on a tray, season both sides and rub the herb mixture on to each side.
Heat pan and rub it with a little olive oil.
Put on the tuna.
Sear the tuna so that it toasts, fries, and browns (about 45-60 seconds on each side).
Rip steaks in half and serve on salad greens with sun-dried tomatoes, olives, and basil.