Seared-Chicken Salad With Cherries and Goat-Cheese Dressing
Laurita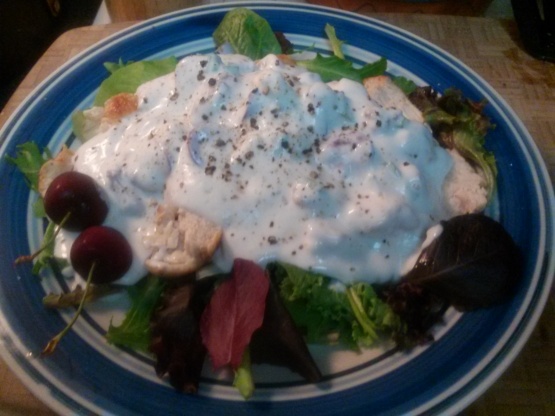 From Everyday Food: "Cherries aren't only for jams and pies -- these juicy, ruby red summer beauties are ripe for the picking in this refreshing salad."

Yes, yes, and YES! This summer salad is absolutely great. I used an organic spring mix (not because I am a fanatic or even believe when it says organic it is any different) but it was on sale and I was lucky to find the Washington Sweet Cherries on sale too (usually $4-5 a pound - at Walmart for $1.48 a pound - amazing! The blend of goat cheese, sour cream, cherries and walnuts...oh lordamercy, it was fantastic! I would recommend this for ANYONE, I did take the other chef's recommendation and put very little vinegar, probably half of the recommended, it didn't seem to need it. Can't mix it too much or it turns pink from the cherries, but other than that, nothing changed from me! I then made it again to use up the rest of the sour cream and stuff but without the lettuce. Made a wonderfully different chicken salad. Thanks Alligirl, that is a rockin' recipe!
In a small bowl, whisk together sour cream, goat cheese, chives, vinegar, and 2 tablespoons water; season with salt and pepper. Set dressing aside.
In a large skillet, heat oil over medium-high.
Season chicken with salt and pepper.
Working in batches, cook until opaque throughout, 2 to 3 minutes per side. Thinly slice chicken crosswise.
Divide lettuce among four plates; top with chicken, cherries, and walnuts. Serve salad with dressing alongside.
Note: If dressing is too thick, it may be thinned out with a little milk.