Sear-Roasting Steak Marinade (Cliff House Copycat)
Nif_H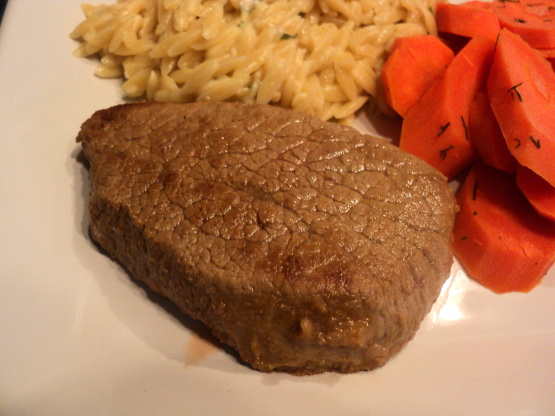 This recipe was originally for Filet Mignon, but I use it for other cuts of steaks as well.

Top Review by Nif_H
I used sirloin steaks but would probably use a thicker steak for this recipe. The flavours were quite good but it mostly tasted like curry - fine by me! We had these steaks with orzo and carrots. Made for Pick A Chef 2011 for my adopted chef StarOfWhiteLight! Thanks!
Mix all ingredients together. Use as a marinade for beef steaks. Allow the meat to marinate over night. Preheat oven to 400 degrees F. In a cast-iron frying pan over medium-high heat, heat 2 tablespoons olive oil. Remove steaks from marinade. Sear the steaks on all sides (they will look back & chared because of the sugar in the marinate), moving them with tongs a little so they don't stick to the bottom. Remove from heat and put the cast iron skillet with the steaks in it into the oven. Cook until desired temperature:.
Rare - 120 degrees F.
Medium Rare - 125 degrees F.
Medium - 130 degrees F.
When the steaks are crusty-charred and done to your liking, remove from the pan, cover loosely with aluminum foil and let rest 5-10 minutes before serving.
As a toper: Reduce 1/2 of dry red wine to a syrup consistency . Add the juices that accumulate from resting steaks. Remove pan from heat. Add the 2 tablespoons of butter and mix it in by swirling the pan. Pour over steaks just before serving.