Juenessa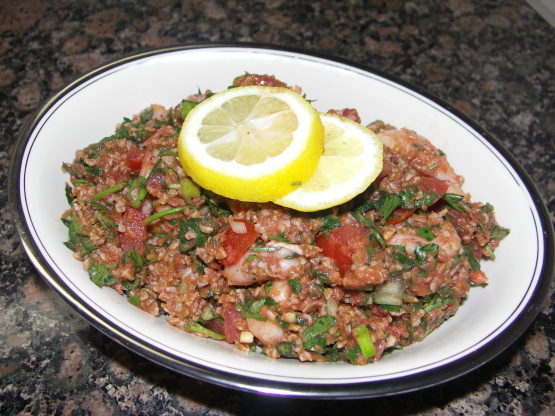 Adapted from Jane Brody's Good Seafood Book. She notes that you can substitute heated Spicy Hot V8 juice or commercial Bloody Mary mix for the boiling water mentioned in Step 1 (I haven't tried this); if you do this, omit the Tabasco sauce and anchovy paste. If desired, serve with wedges of whole wheat pita. I must admit that I've mixed the seafood into the tabbouli before chilling and thought it worked fine. I can attest that the leftovers keep at least a couple days in the fridge, though some liquid collects that needs to be drained off. Cooking (passive) time includes chilling as well as cooking. Eight servings as an hors d'oeuvre or 4 servings as a light meal. UPDATE: I agree with the first reviewer Juenessa that this is a bit bland, so now add 1 Tbsp of my Seasoning Mixture for Fish & Seafood. If you don't want to go to the bother of putting that together, you could try another seasoning that goes well with seafood, such as Old Bay. Also, you should of course also add salt if you prefer your meals saltier (I follow a rather low-salt diet and have become accustomed to its absence.)

We have recently discovered bulgur wheat and really enjoy the taste, so when I saw this recipe~I thought it would be something we would really like. I added some kosher salt to the recipe, because I thought it would need some additional seasoning. I let the bulgur mixture and dressing marinate for about 2 hours, then before eating tossed the seafood into the bulgur mixture. I took a taste and thought it was kind of bland. So, I added an additional 1/8 cup freshly squeezed lemon juice and another 1/4 to 1/2 teaspoon of hot pepper sauce. I liked it, but didn't love it. My husband didn't really care for it. I'm sure this is a matter of individual tastes and someone else will try it and love it. It was very fresh and made a lovely presentation.
In heatproof bowl, add 1 cup boiling water to the bulgur; let stand 30 minutes.
In a medium size saucepan, bring about 3/4 inch of salted water to a boil, add the scallops, lower the heat and let simmer 2 minute Drain and cool.
Pour the bulgur into a colander lined with several layers cheesecloth or with a clean kitchen towel. Gather the ends of the cloth or towel together and squeeze out all the liquid. (Alternatively, you can drain in a close woven sieve.)
Place bulgur in a large bowl, add parsley through scallions and toss well.
Whisk together the dressing ingredients or shake in a jar to combine. Add dressing to the bulgur mixture, tossing to coat evenly.
Chill 1 hour to overnight.
If chilling longer than 1 hour, chill scallops and shrimp separately and just add to tabbouli 1 hour before serving.