Seafood Stuffed Vidalia Onions
loof751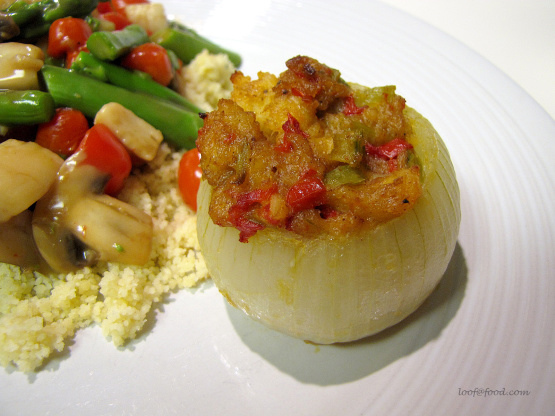 A great side dish to serve at your next fishfry, this is also elegant enough for a dinner party. You can use pre-cooked flounder or cod if you desire or if you have an allergy to shellfish. Just use a fork to flake, seperating the meat. This is a spin-off variation of our wonderful Flounder Stuffed With Shrimp and Crabmeat. :)

This dish is truly a delight! I made my own version of Old Bay seasoning using thyme, black pepper, cayenne, smoked paprika, and celery salt and it was great with the seafood in the stuffing. I'm not a fan of onions so I stuffed a vidalia for DH and stuffed the other half of the red bell pepper used in this recipe for me - we both thought they were delicious! Thanks for sharing your recipe!
Preheat oven to 350°F Peel the onions and cut off tops. Using a sharp knife, score center of each onion. Using a small spoon, scoop out center leaving the two outer layers intact to create a 'bowl' (similar to gutting a pumpkin. Save the insides for another recipe). Place shells into an 8" baking dish and set aside.
MAKE STUFFING: In a sauté pan, heat the olive oil and butter. Add the garlic, celery, and bell pepper. Sauté for 2 minutes, or until the vegetables are softened.
Add the shrimp and season with salt and Old Bay (to taste). Sauté for 2 minutes. Remove from the heat and place mixture into a bowl. Gently stir in the crabmeat, then the bread crumbs a little at a time, adding more as needed to gently bind. Set aside to cool.
ASSEMBLY: Spoon stuffing evenly into onions (do not pack too tightly, just lightly press down into the onions). Pour broth over and around onions. Cover dish and bake for 45-50 minutes or until onions are tender. Remove cover and continue baking for an additional 5-10 minutes to lightly brown the tops.