ImPat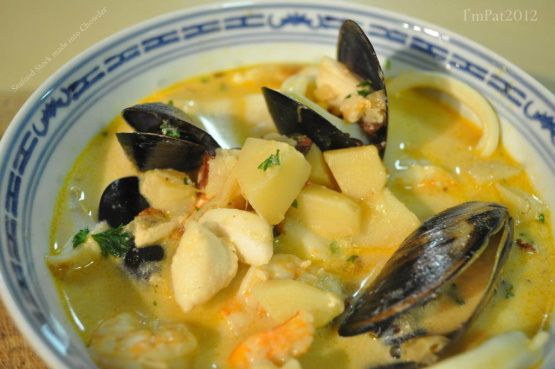 Top Review by ImPat
I doubled the recipe using raw and cooked prawn/shrimp shell, king crab shell and crayfish/lobster shells for the last step I put through a fine sieve 3 times and then on the 4th put through a clean fine cloth and the result was 8 cups of beautiful clear stock with lots of flavour, I have frozen the 8 cups (in 1 cup containers) and look forward to using to make a seafood chowder and a seafood laksa. Still have crayfish shells and a fish head in the freezaer ready to make another batch very soon. Thank you Heather U., made for Bargain Basement game. WOW this made the best Seafood Chowder we have ever had (will post recipe), thank you Heather U for a great recipe.
Warm the oil in the pan over medium heat. Add the shrimp shells, onions, carrots, and celery over medium heat for 15 minutes, until lightly browned.
Add the garlic and cook 2 more minutes.
Add 1 1/2 quarts of water, the white wine, tomato paste, salt, pepper, and thyme. Bring to a boil, then reduce the heat and simmer for 1 hour.
Strain through a sieve, pressing the solids. You should have approximately 1 quart of stock. If not, you can make up the difference with water or white wine.