Debi9400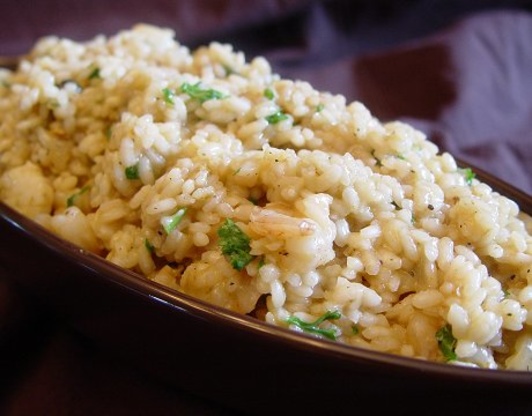 From "Italian Mastepiece", Good Food Magazine, September 1986.

I used Arborio rice and for 1 cup of rice (2 servings) it took a full 5 cups of liquid to make a good creamy risotto. If the liquid amount wasn't so far off I would rate this higher. All of my sea food was cleaned and frozen so I added it with the last liquid addition and it came out just right. I think that adding some garlic with the onions when they are almost done would be a good addition. I must say that this recipe makes huge servings, the 2 servings I made yielded at the minimum 4 servings and possibly more so it gives a lot of bang for your buck!
Heat wine and broth in large heavy saucepan to boiling. Add mussels, cover pan, and cook just until mussels open, about 4 minutes. Remove mussels to bowl with slotted spoon and let cool. Remove mussels from shells and discard shells.
Meanwhile, reduce heat under saucepan and add shrimp shells to broth. Simmer covered 15 minutes. Strain through sieve lined with several layers of cheesecloth. Measure broth and add enough wine and water to measure 4 cups. Transfer to saucepan and keep hot over very low heat.
Heat 2 T. butter and the oil in large saucepan over low heat. When butter foams, stir in onion and cook until tender and golden, about 15 minutes. Add rice to onion, increase heat to medium, and cook, stirirng constantly, until edges of grains are transparent, about 5 minutes.
Pour enough broth into rice to cover by 1/4 inch. Adjusting heat to maintain a lively simmer (not steady boil), simmer, stirring constantly, until liquid is absorbed and you can see bottom of pan as you stir, about 5 minutes.
Add more broth to cover rice by 1/4 inch and continue to simmer, stirring constantly, until liquid is absorbed. Repeat adding broth and simmering until rice is tender but still slightly firm at the center; add shrimp and scallops after 15 minutes of cooking (it should take about 20 minutes from time first liquid is added). Season to taste and with salt and pepper halfway through cooking.
Stir enough of the remaining broth mixture into risotto to make it creamy. Remove from heat and stir in mussels, remaining butter, the parsley, and cheese. Taste and adjust seasonings. Serve hot.