Paul B.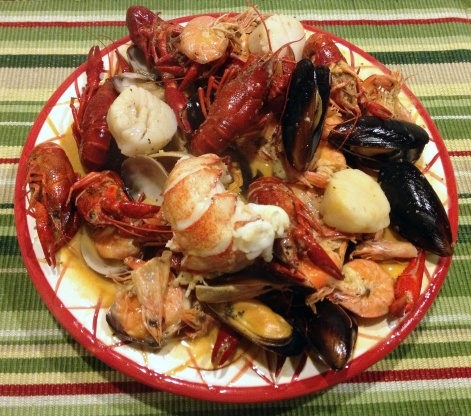 This recipe is from Fairchilds a restaraunt inside the Silver Legacy Casino here in Reno. It is so easy and tastes wonderful. Use any combination of seafood you like...shrimp, scallops, crab, lobster, clams, mussels. We really like it with all crab and have used canned crab with great results. It's like a creamy stew or soup. Serve it with salad & garlic bread. Simple and elegant.

Great soup for a rainy, spring day. I would make the sauce a day ahead and then add the fish. I had some sauce left over and drank it the next day. WOW was it good. Used Recipe #334528 for the cocktail sauce.
In a saute pan melt 4 oz. of the butter over medium heat.
Add white wine, paprika, celery seed, clam juice, lemon juice, worcestershire, tabasco, cocktail sauce and salt & pepper.
If using clams or mussels add them now and cook until they open.
Add shrimp, scallops, lobster and/or crab meat and bring to a full boil.
Add heavy whipping cream and boil for 1 minute.
Add last 4 oz. of butter.
Garnish with chives.