MsPia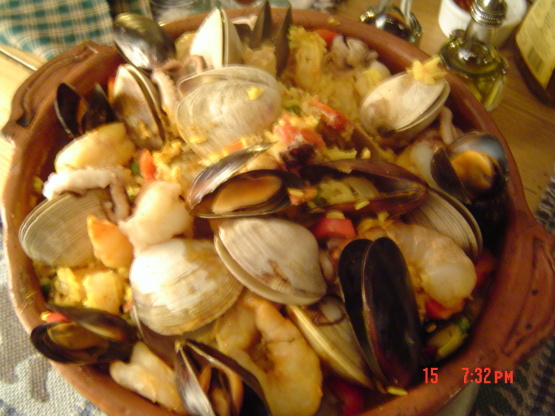 You can substitute the ingredients for your favorite seafood.
MsPia! This is wonderful! The instructions are so easy to follow. The seasoning is perfect. I used clams, mussels, shrimp and scallops. I did not want the scallops to be dry so I added them after 20 minutes. I did not stir! Next time I think I will add them at 25 minutes. The rice turned out a beautiful shade of yellow and perfectly cooked. It really is a quick and easy recipe you could make during the week. I love that. This is definitely a recipe I will make often. Thanks for sharing! i made this for PAC 2008.
Soak the saffron in 2 Tbs. of hot water.
In a Paella pan or Dutch oven, heat the oil. Add the onions and cook for 4 minutes. Add the rice and the saffron and cook for 2 minutes, stirring constantly. Add the tomatoes, garlic and chicken broth and bring to boil. Lower the heat and add half of ALL the seafood, the peas and the red pepper. Seasoning with salt and black pepper. Mix once.
Add the rest of the seafood on top. Cover with parchment paper and lid. Simmer for 30 minutes. DO NOT MIX AGAIN.
Uncover, let it seat for 5 minutes and serve.