Bergy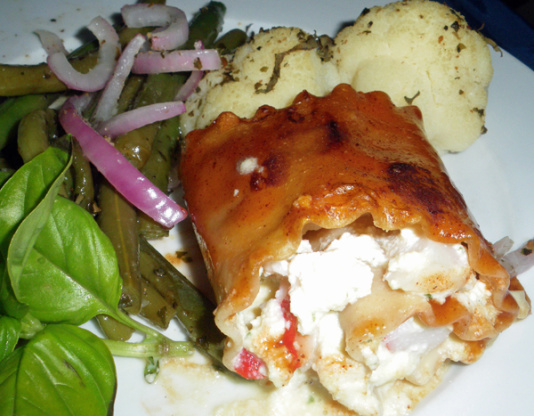 Very attractive dish, serve with a tossed green salad and fresh crisp rolls. Great for a bridge luncheon If you microwave them they are ready in under 10 minutes

Wonderfull, quick supper, thanks Bergy!!I did 6 but cut back on the cheese, used just half of each and doubled up on the imitation crabmeat. Couldn't find any seafood sauce, used mushroom pasta sauce and added a few fresh mushrooms happened to have in the frige. turned out very good and will take the left overs for lunch tomorrow. Thanks for sharing!!
Combine all the ingredients except the lasagna noodles and the pasta sauce.
Mix well.
Spread 1/3 cup on each noodle and roll jelly roll style.
Place, seam side down in an 8" oven proof dish.
Pour the pasta sauce over the roll ups and bake, lightly covered, for 25 minutes in 350F oven OR Cover with wax paper and microwave on high for 7 minutes.