I've made this on several occasions, with rave reviews and always someone asking for the recipe. Uses whipping cream instead of cottage cheese,with the result of a wonderful, creamy sauce. You can use any seafood to your preference. From the Taste of Home magazine.
1⁄4 cup green onion (chopped)
2 tablespoons vegetable oil
2 tablespoons butter (or margarine)
1⁄2 cup butter (or margarine)
1⁄2 cup chicken broth
1 (8 ounce) bottle clam juice
1 lb bay scallop
1 lb shrimp, small, uncooked (peeled & deveined)
1 (8 ounce) package imitation crabmeat (or real if preferred)
1⁄4 teaspoon white pepper (divided)
1⁄2 cup flour
1 1⁄2 cups milk
1 cup whipping cream
1⁄2 cup parmesan cheese, shredded (divided)
9 lasagna noodles, cooked, drained
Directions
In a large skillet, sauté onion in oil and 2 Tbs.butter until tender. Stir in broth and clam juice, bring to a boil. Add scallops, shrimp, and crab and 1/8 teaspoons white pepper. Return to boil. Reduce heat, simmer uncovered, for 4-5min or until shrimp turn pink and scallops are firm and opaque-stirring gently. Drain-reserving cooking liquid: set seafood mixture aside.
In a saucepan, melt remaining butter; stir in flour until smooth. Combine milk and reserved cooking liquid; gradually add to the saucepan. Add remaining pepper. Bring to a boil, cook and stir for 2 min or until thickened. Remove from heat, stir in cream and ¼ cup Parmesan cheese. Stir ¾ cup of white sauce into seafood mixture.
Spread ½ cup of white sauce in a greased 13 x 9 x 2" baking pan. Top with 3 noodles; spread with ½ of seafood mixture and 1-1/4 cup white sauce. Repeat layers. Top with remaining noodles, sauce and Parmesan cheese.
Bake, uncovered @ 350 degrees for 35-40 minute or until golden brown. Let stand 15min before serving. Serves 12.
Most Helpful
I too made this from Taste of Home. My hubby considers it one of his all time favorite meals! I never have whipping cream so I almost always use 2 1/2 cups milk. Thanks for posting!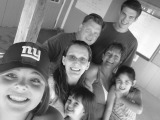 Served this dish last night to a group of very discriminating gourmands! They loved it. I did substitute large sea scallops for bay scallops and used Alaskan King Crab leg meat which seemed to add an especially decadent touch! Definitely a keeper. Linda in Winnipeg
Our family has made this recipe several times, it is out of this world. It is great for company and to make easier for the hostess, I like to prepare it the day before so all you need to do is put it in the oven.