Seafood in Lemon Cream Sauce
teresas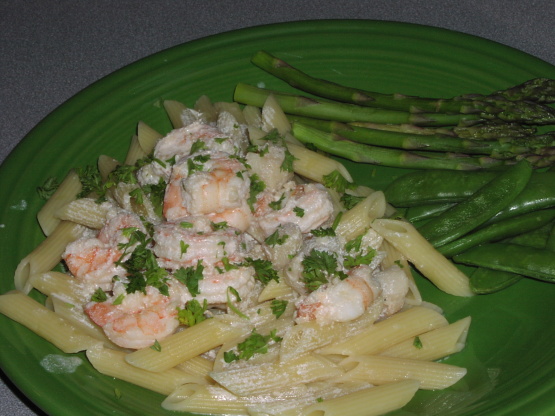 From The Australian Women's Weekly After Work Fast. Times are estimates.

WINNER!!! Made this as written except for cutting the recipe in half except for the sacue like TeresaS did and used parsley instead of dill (out of dill). I had large garlic cloves so that was fine and DH totally inhaled his dinner. Going into my Favorites of 2013. Thank you for posting. Made for the Aussie Swap2013.
Shell and devein prawns (leave tails intact if you prefer, we don't).
Into a medium bowl combine prawns, scallops, oil and garlic.
Cook seafood on a heated oiled grill plate (or grill on the barbecue) until changed in colour, remove and keep warm.
Boil, steam or microwave asparagus and sugar snap peas, separately until tender; drain and cover to keep warm.
Simmer juice and wine in a small saucepan, uncovered, about 1 minute or until reduced by half.
Add cream and bring to the boil, reduce the heat and simmer uncovered for 2 minutes.
Add seafood and simmer uncovered until hot.
Serve seafood with vegetables and garnish with the parsley.