mgin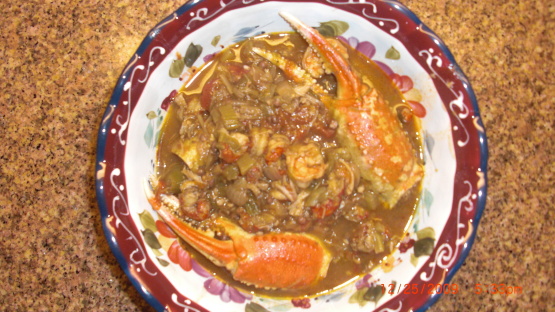 This is a real SEAFOOD gumbo. No meat in here. This is the best gumbo I've ever had. The crab boil is the key ingredient - do not omit it. The smell will drive you nuts!!! NOTE: If you can't find Crab Boil at your grocery, please refer to Crab Boil Spices by Candie Yoder or #34801 by Miller (Oysters are optional, I don't eat them myself)

This seafood gumbo is awesome!! I cooked the roux until it was a nice caramel brown color. The crab boil entices you with its smell and gives such incredible flavor. I used halibut and included the oysters. Fabulous!! Put some up in the freezer for later. Thanks pappergoddess.
1⁄4 cup oil

3 -4

tablespoons flour

2

onions, chopped

2

stalks celery, chopped

1

(1 lb) bagfrozen chopped okra

1

quart chicken broth

1

(16 ounce) can whole tomatoes, w/liquid

4 -5

cloves garlic, crushed

2 -3

tablespoons crab boil, tied in cheesecloth
salt & pepper
hot pepper sauce

2

lbs raw shrimp, peeled

1

lb crabmeat or 2 cans crabmeat

1

pint oyster (OPTIONAL)

1

lb firm white fish fillet (halibut, white fish, cod)

1

tablespoon gumbo file powder
To make a roux, heat oil, add flour and cook over medium heat until VERY dark but not scorched, stirring constantly. If using butter, be very careful because it burns easily. Set aside.
In large dutch oven, saute onion, celery, and okra until limp.
Add roux, broth, tomatoes, garlic, bay leaves, crab boil packet, and salt and pepper. (NOTE: If you can't find Crab Boil at your grocery, please refer to recipe # 3252 by Candie Yoder or # 34801 by Miller)
Simmer for 2 hours.
10 minutes before serving, add all raw fish and seafood and the file powder.
Simmer until done, but do not boil.
Serve over bowls of rice.