3 Reviews
Very nice, indeed!! I absolutely loved it! I agree with the previous two reviewers that the batter could use some zing in its flavor, so I would add some Asian spices to it -- about a teaspoon. I found the sauce to be so wonderful (I used fresh ginger that I minced instead of grating) that it carried the battered fish sticks just fine for me. My DH agreed with the other reviewers. One thing he and I both agreed on: this batter has such a great texture and clings beautifully to the fish sticks; we'd like to use this for other types of fish as well. I also never would have purchased the imitation crab sticks before and was delighted to find them in my grocer's refrigerated fish counter where the canned crab, etc. is. The package of 8 fish sticks is fairly stable (can last a month in the 'fridge) so I plan to keep a package on hand to wow my friends with this simple recipe. I also heated the oil to 360F in my fairly deep cast iron skillet. What a keeper! Thanks, Pat! Made for Make My Recipe tag game.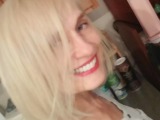 Though the crab, was not what I expected, flavorwise, the dipping sauce was nocely flavored. Just thought the crab was missing something. As for the sauce I added a couple drops of hot sauce, giving this a nice zing. Tagged and made in 1--2-3 hits.

I had never thought of doing anything like this with the imitation crab. I can only get the pieces here, not sticks so used what I had. The only drawback was that by the time the batter has browned and crisped the "crab" had softened quite a bit and lost a good bit of it's crab flavor. That might well not happen if you have the sticks which, I assume, are quite a bit larger. These were fun to eat and really feel like summer for some reason. I think the kids would really like this preparation too.

Seafood/Crab Sticks With Chilli Sauce