This recipe is from "Traditional Recipes of Atlantic Canada". It is one of two that I posted in answer to a message board request.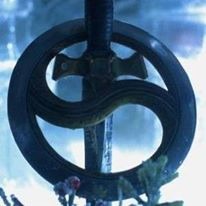 This chowder accompanied by French rolls with herb butter was the perfect meal for this cool, rainy day. The chowder was super easy to make and didn't take long at all (which was great after a long day at work). The only change I made was the addition of a little garlic powder and parsley. After putting the chowder in bowls, I did add a touch of red pepper to mine (just because I like a little spice in my food). Everyone in the family agreed that this one is a definite keeper.
Thaw fillets if using frozen fish and cut into 1 1/2 inch cubes.
Dice salt pork or bacon into 1/2 pieces and fry in frying pan until crisp and brown.
Remove pork or bacon and reserve until later.
Saute onion and celery in remaining fat until tender.
Dissolve boullion cube in boiling water and add to vegetables.
Add potatoes and seasonings.
Cover and simmer until potatoes are tender.
Add chunks of fish and cook until fish is tender.
Add evaporated milk or cream and milk.
Heat gently to blend flavours but do not boil or chowder may curdle.
Taste and adjust seasoning if necessary.
Serve garnished with bacon bits.