Seafood Casserole *for Those Who Don't Like Seafood*
Bergy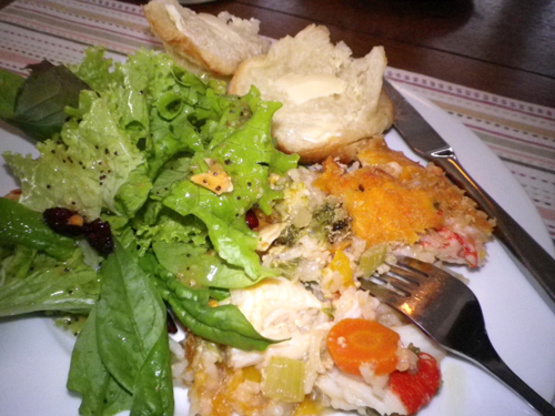 I'm not a big fan of seafood, nor is my husband, but wow! This casserole left a big impression; it even smelled great before I put it in the oven. My 5-year-old son had seconds, and he never does that! Hope you like it as much as we do.
Set oven to 375 degrees.
Prepare rice according to directions.
Meanwhile, in a large bowl combine seafood, onion, broccoli, celery, orange/yellow pepper, and carrots.
In a small bowl, mix together mayonnaise, milk or half and half, cream of celery soup, worcestershire sauce, onion powder, salt, and pepper.
Combine mayonnaise mixture with seafood/vegetable combination.
Add rice and stir.
Spread contents into greased 9x13 dish.
Top with cheddar cheese, then breadcrumbs or crushed crackers.
Bake uncovered for 40-45 minutes.