Seafood and Portabella Mushrooms
Sageca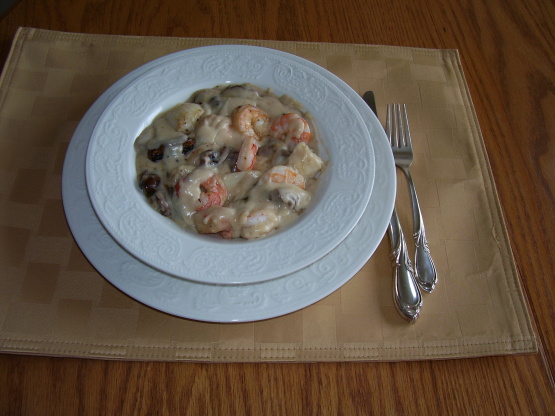 This is very nice served with Orzo. Great choice to serve your special guests. You can prepare it earlier and bake just before serving.

This is another recipe from my PAC pile! I just finished serving this to a close friend of mine who does not cook. She loved it and so did I. I used Old Bay seasoning for the seafood and Tony's Creole in place of the Emeril's Essence. I was visiting with my girlfriend while making this and just realized as I am reviewing it that I forgot the toamto paste! Well, it was wonderful without it! I did use more cheese than the recipe called for and served it over mini penne pasta.
Sauté seafood and shallots in 3 tablespoons butter and seafood seasoning.
Cook 5 minutes.
Sprinkle with 1/4 cup chicken broth,salt and pepper.
Set aside.
Sauté mushrooms in 1 tablespoon of butter.
Add to seafood.
In another pan melt the remaining butter and add flour to make paste.
Add milk, chicken broth, Emeril's Essence and tomato paste stir until smooth.
Combine sauce and seafood mixture and place in a casserole or individual ramekins.
Bake at 400F degrees for 30 minutes.