twissis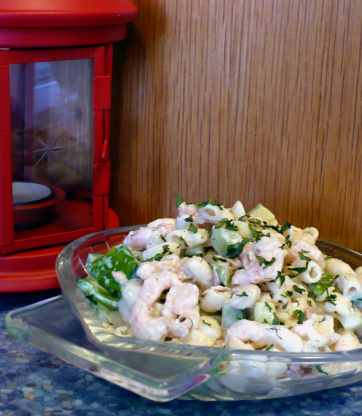 I clipped this recipe from a magazine in the early 80's. It has been a family favorite ever since.

Made for Spring PAC 2013 - 1 of the best things about pasta salads is they easily allow for pers pref chgs, so I chg'd your recipe a bit but feel I kept the heart of it intact. Macaroni was used instead of rotini pasta because it was what I had on-hand. Crabmeat (imitation & real) are both surprisingly not to be found in Iceland, so I used Icelandic baby shrimp & added canned tuna after finding it a bit bland on a taste test. At that point, it was right where it needed to be for us. What I esp liked about this pasta satad was that it was not swimming in mayo as many are plus the crisp texture of the snow peas. Sweet red onion & halved black olives might also be good optional adds, my DH commented. We liked this a lot & it made a complete meal when combined w/homemade bread & fruit. Thx for sharing this recipe w/us.
Bring water to boil in a large pot.
Add pasta to boiling water and cook uncovered for 8 minutes or until tender but still firm.
Mix cucumber,mayo, lemon juice, dillweed and garlic in a large bowl. Add the seafood.
Thirty seconds before draining pasta, add snow peas.
Pour pasta and snow peas into colander; plunge colander in very cold water to chill contents. Drain Well. Add to dressing and stir to coat.
I like to refrigerate for a couple of hours to blend flavors. Tastes geat the second day too.