Sea Salted Coffee Toffee Bars
SharonChen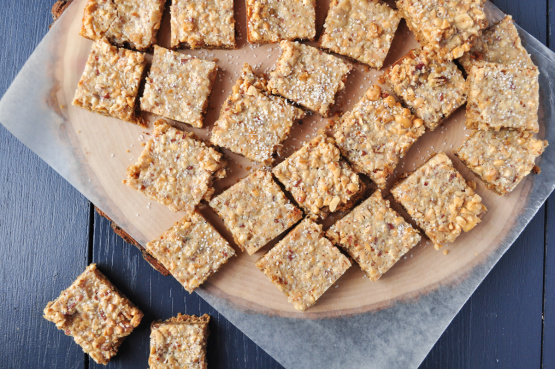 A dense, buttery cookie with a hint of coffee forms a base for the soft, nutty topping. Finished with a sprinkling of sea salt, these bars offer a contemporary balance of both sweet and savory flavors.

These are absolutely the best! (P.S. - if you have 3 little kids at your feet and forget to add the vanilla to the condensed milk - they still taste great!) (And if you are quadrupling the recipe and leave out two sticks of butter, you can take out the too dry flour mixture, beat the forgotten butter, and add the dry mix back in to make the dough perfect again.)
Preheat oven to 350°F.
In a mixing bowl, beat together butter, brown sugar and salt until light and fluffy.
Add flour, 1 cup at a time, stirring between additions. Add instant coffee crystals and blend until well incorporated.
Pat batter into ungreased 9x13x2-inch baking pan in an even layer.
Bake until edges are lightly browned and center is puffy, 12 to 15 minutes.
Meanwhile, in heavy saucepan, stir condensed milk and 2 tablespoons butter over low heat until butter melts. The mixture will thicken and become smooth. Stir in vanilla or rum, remove from heat and let sit until bottom layer is done baking.
Sprinkle nuts over baked bottom layer and pour hot condensed milk mixture evenly over nuts using a spatula to spread.
Return to the oven and bake until top is golden and bubbling, 10 to 12 minutes.
Immediately sprinkle desired amount of sea salt over bubbling toffee top. Cool slightly in pan and cut into bars. Bars can be kept up to one week in an airtight container.