Ruby15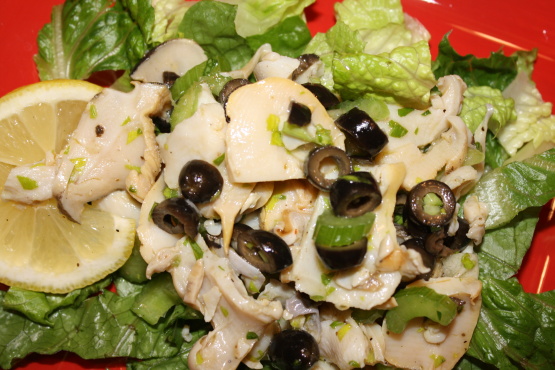 Revised: Thanks to JerseyJoe's comments, I revised my reciepe. This is one of my family's favorite seafood salad. We use can Scungilli (sliced conch - which is one of a number of different species of medium-sized to large saltwater snails). And low in calories.
Drain the scungilli and rinse under cold water.
Sliced in bite-size pieces (if not already sliced).
Toss sliced scungilli, celery, olives, garlic, salt and peppers.
Mix together oil, lemon juice and parsley.
Add to scungilli mixture.
Add bite size shrimp, if desired.
Refrigerate and marinate for at least 30 minutes (or longer).
Serve on a bed of lettuce.