Scrumptous & Simple Ham & Bean Soup (NO GAS)
CarrolJ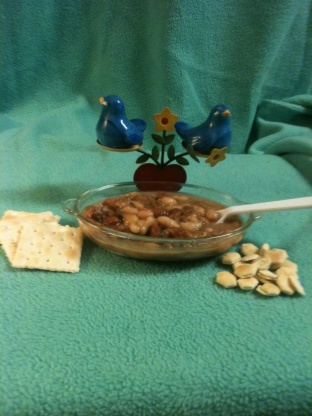 This is a long time favorite in our family, my wife & I grew up with "old fashioned ham & beans" as a staple with our families. We've added the brown sugar recently & find it a good addition as long as it's not overdone. There's no special preparation tips, even I can do this easily! We always use a 6 qt. pressure cooker for ham & beans, a slow cooker or large pot on stove top will work well, but for simplicity and overall "top of the line taste", nothing beats a pressure cooker! With all ingredients added, the lid placed on and pressure up to 15 lbs. it's 40 to 45 minutes to "ready to eat"! Preparation is very simple & uncomplicated. Go to your local butcher shop and ask for pork leg shanks, pork hocks will work (although they don't have enough meat for us) & of course, a chunk of bone-in ham is excellent. The key is, get as much bone as you can, this is the magic in "great ham & beans"! The leg shanks are perfect because of the leg bones, they're usually 10 to 12 in. long, have the butcher cut them in half or you can do it at home with a meat saw, this exposes more bone ends & marrow (the flavor catylist). If they're good shanks two or three will do a large pot of ham & beans. We like brown pintos & white great northerns, we use a 50/50 mix, any bean combination will work fine, "Don't stir the pot too much"or the white beans will become "mushy", doesn't hurt but beans should be whole. **Soak beans overnite in water with 1/4 cup of vinegar (Key ingredient for "removing gas") Have the beans well covered with water for soaking-remember they expand quite a bit and you don't want them to expand above the water level.
The title says it all and is extremely true. First of all the flavor is absolutely wonderful. I love Bean soup and usually prefer using only Great Northerns. I have never made a bean soup which was combined with Pinto beans. I've made Pinto bean soup alone and wasn't crazy about it, but wow, this combo of ingredients is perfect. I followed the recipe exactly except I cooked it in my Zojirushi Electric Cooker, which is not a slow cooker. Actually I didn't prepare this, my 11 year old DGD made the dish and I sat in my chair and supervised. I did not have to add any salt. The spices were perfect. I suffer with IBS and if it is true that I don't suffer from eating this then it will this be my 'go-to' bean soup recipe from now on. Deserves more than 5 stars! Made for PAC Spring 2013.
After soaking beans overnite in water & 1/4 cup vinegar, drain & place in cooker, add chicken broth & water to cover beans apoproximately 1 to 2 inches, then simply add all the ingredients, no order, just dump! No salt should be added, the uncooked beans don't like it, the ham will usually supply all the salt you need, if not, use a little sea salt or kosher after cooking. If using a pressure cooker (highly recommended) place on hot burner, cook at 15 lbs. pressure for approximately 40 minutes, can vary a few minutes on amount of ham in pot but not much. It's ready to eat! You'll be pleasantly surprised with the flavor, it's "simply delicious"! You will also be pleasantly surprised that there is "absolutely no gas"! If more juice is desired simply add some water, the juice is "fantastic"!