Scrumptious Scallops and Shrimp With Linguini
Satyne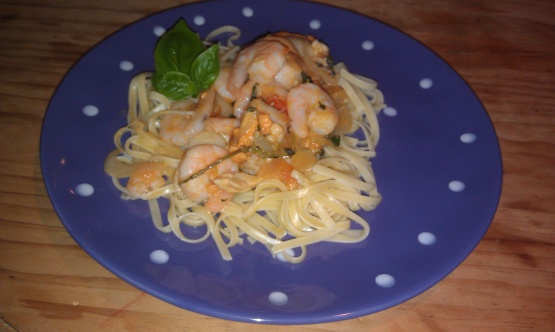 I found this recipe on the web and made some adjustments. I added shrimp to the recipe and changed an herb that was listed. This recipe is so simple to make, but the flavor is WOW! Plus, it's beautiful when it sits on the plate.
1. Heat 2 tablespoons olive oil in a large nonstick skillet over medium-high heat. Add scallops, and saute 4 minutes or until done. Remove scallops from skillet with a slotted spoon; set aside, and keep warm. Add shrimp and cook until just pink in color, remove from skillet, add to scallops, keep warm.
2. Add 1 tablespoon olive oil to skillet, add onion rings and garlic to skillet, and saute for 2-3 minutes, until onions are tender. Add tomato and remaining ingredients and saute 2 minutes or until tender.
Return scallops and shrimp to skillet and toss gently until blended.
3. Spoon sauce over linguini. Serve it immediately.