lazyme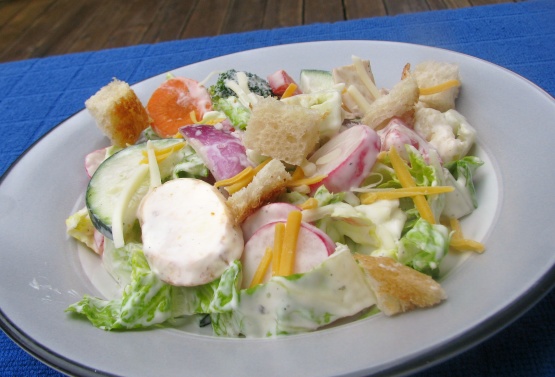 I've been looking for more salad recipes. This one is from Sara Moulton (of Food TV Fame)! I'm excited to try it this summer!

Top Review by lazyme
Loved, loved, loved this! I had bought a pre-packaged container of stir-fry veggies and used the raw leftovers as the other veggies. It included mushrooms, broccoli, cauliflower, carrots, red onion, and then I added diced tomatoes, croutons and ranch dressing. I ate tons of salad - in fact didn't finish my dinner because this was so good. :) Thanks spatchcock for a great keeper. Made for Cookbook Tag.
Cut iceberg lettuce head in 1/2 then in 1/2 again.
Slice into 1/2-inch wide pieces and put in salad bowl.
Cut off bottom (core) of romaine and slice the romaine widthwise in 1/2-inch strips.
Place in salad bowl.
Toss with remaining vegetables.
Add croutons and cheese, toss again.
When salad is well mixed, pour dressing over and toss again.
Serve with toasted garlic French bread.