Erin R.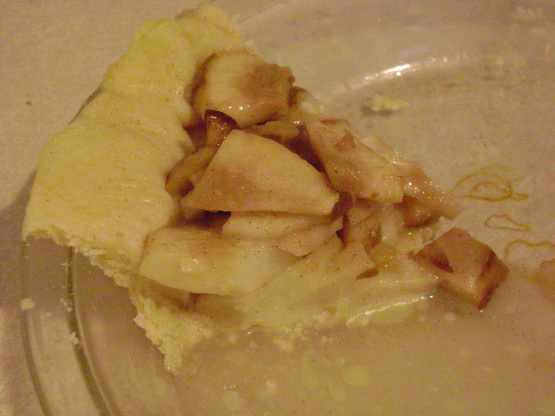 My MIL gave this recipe to me years ago. It's always been a huge hit with my family. Hope you enjoy it!

Ah, a wonderful pie indeed. I really love single-crust pies with plenty of fruit, so I put a little foil lid on it to mimic the top crust and stop it drying out too much. Yes, the result looks a bit goofy, but it ended up tender and perfectly done. After reading some of the "soupy" comments I cut the butter back to two tablespoons, and then added a teaspoon of cardamom to punch it up a bit. It pairs beautifully with vanilla ice cream. My mom and sister and I mowed through more than half of it, and they said to feel free to bring this pie again when we have our next family dinner. Oh wait, I also subbed Splenda for the sugar and we never knew the difference. Thanks for a winner.
Combine pears, sugar, flour, vanilla, and 1/2 stick melted butter.
Pour in one pie shell.
Cover with the other pie shell.
Sprinkle with sugar and remaining 1/2 stick melted butter.
Bake at 400 degrees for 45 minutes.