3 Reviews
I made this and the fam really enjoyed it. Straight into my cookbook, good luck with the contest - this should be a contender for sure.
We had this for lunch instead of breakfast and thoroughly enjoyed it and believe the name fits it well! My cinnamon bread was small in size, so this recipe made 2 sandwiches for me. As they each had 3 pieces of bread it did fill us up. Thanks for such a creative use of ingredients!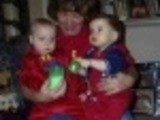 I enjoyed a special breakfast for one by making this recipe and serving it with Cocolatte. This recipe was an intersting use of contest ingredients. I used Mascarpone Cheese Substitute and pineapple perserves instead of orange marmalade because that's what I had on hand. I did not think the middle piece of bread should have been brushed with moisture because I found it too soggy. Good Luck!

Scrumptious Breakfast Grilled Cheese