Scrumptious Breakfast Grilled Cheese

Not the traditional- This is a scrumptious breakfast grilled cheese. It's wonderful for a special occasion like Valentines day! Enjoy- It was so much fun to create this one!!!--------
Directions
Butter outsides of 2 of the pieces of cinnamon bread and set aside.
In a small bowl, mix together the coconut milk and grand marnier. Brush BOTH SIDES of 1 slice of bread (The one with no butter) with this mixture. Let soak while preparing the cheeses.
In a separate bowl, mix the chopped white chocolate with the mascarpone cheese and powdered sugar- set aside.
In another bowl mix the Neufchatel, honey, chopped dried apricots, marmalade and pinch of cinnamon.
Spread the first mixture (white chocolate/mascarpone)onto inside of 1 of the dry pieces of cinnamon bread and sandwich it together with the soaked piece.
Take the remaining dry piece of bread and spread the second mixture (neufchatel/apricot mixture)onto the inside- sandwiching it to the other side of the soaked piece. each cheese mixture will be sandwiching either side of the soaked piece.
Place sandwich into a non-stick skillet over medium heat. Let sit for 2 to 3 minutes or until cheese is starting to melt and bread is browning. flip and press firmly- cook an additional 3 min or until chocolate has melted and undersides of bread are browned. Flip one more time and press firm- let sit 30 sec. Remove from heat and let sit 2 minutes, slice diagonally and garnish with a light dusting of powdered sugar.
Enjoy!
Most Helpful
I made this and the fam really enjoyed it. Straight into my cookbook, good luck with the contest - this should be a contender for sure.
We had this for lunch instead of breakfast and thoroughly enjoyed it and believe the name fits it well! My cinnamon bread was small in size, so this recipe made 2 sandwiches for me. As they each had 3 pieces of bread it did fill us up. Thanks for such a creative use of ingredients!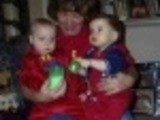 I enjoyed a special breakfast for one by making this recipe and serving it with recipe#211513. This recipe was an intersting use of contest ingredients. I used recipe#66077 and pineapple perserves instead of orange marmalade because that's what I had on hand. I did not think the middle piece of bread should have been brushed with moisture because I found it too soggy. Good Luck!