Scrumptious Baked Potatoes
Bergy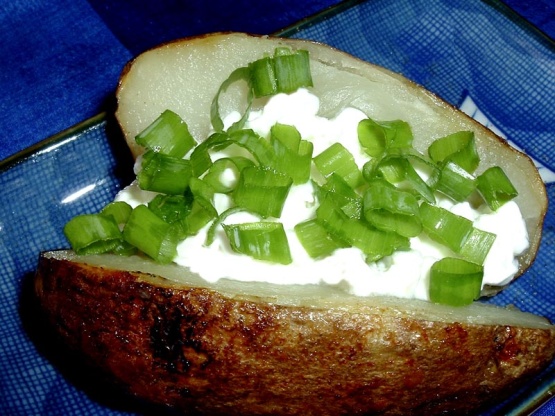 These scrumptious potatoes are very flavorful, VERY EASY, and always a hit! We always serve these when we have company, it just kicks up a steak dinner! Now the # of potatoes depends on the # you are cooking for! I am going to do this for 4
4

large baking potatoes

1

large vidalia onion, sliced (or onion of your choice)

4

slices bacon, cut into halves (therefore 8 slices)
1⁄4 cup olive oil (may use more if needed)

4

nice squares of heavy duty aluminum foil
Wash and clean the potatoes.
Rub them down with olive oil.
Slice each potato down the center, but do not cut it all the way open, but go deep.
Place 2 slices of bacon inside.
Place several slices of onion.
Season to your likings with salt, pepper,& garlic powder.
Drizzle inside with olive oil.
Close tight (you can use toothpicks if needed).
Roll tight in foil so to keep potatoes closed, then twist sides of foil inches.
Bake at 400°F in oven or on BBQ grill until they are tender.
When done, remove bacon and serve with butter, sour cream, and fresh chives!