Scrum-Diddly-Umptious Vegan Brownies
Chef Joey Z.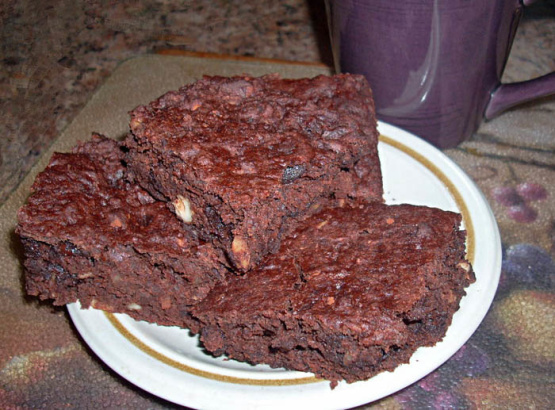 That's right, vegan brownies that actually taste GOOD. What's more, they don't involve a bunch of ridiculous health food store ingredients and they're super quick to make. Mmmm...tasty easy moist healthy brownies. I don't know about you, but I'm sold! (And I'm not even vegan)

These brownies are awesome; they have become a staple for me to make for parties, work, edible gifts, etc.
Obviously great for vegans, but my omnivore friends always ask for the recipe, too! So easy, and amazing texture...

One tip: I leave these (covered) for at least 12 hours (preferable a day in advance) before serving, so they develop a particularly moist, chewy texture, but also because the apple sauce/puree tends to need a few hours to settle in and not give it a strong taste.

They are definitely perfection after 12 hours, though.
Preheat oven to 350 and lightly spray or oil an 8 x 8 baking pan.
Mix applesauce, sugar, and vanilla in a medium bowl. In another bowl, whisk flour, cocoa, baking powder, baking soda, and salt (and cinnamon if using) together.
Make a well in the center of the dry ingredients and add the applesauce mixture. Mix until just combined. Gently fold in chocolate chips (and walnuts if using).
Spread in prepared pan and bake 25-30 min, until center is firm and not sticky. Cool completely before slicing.