Bergy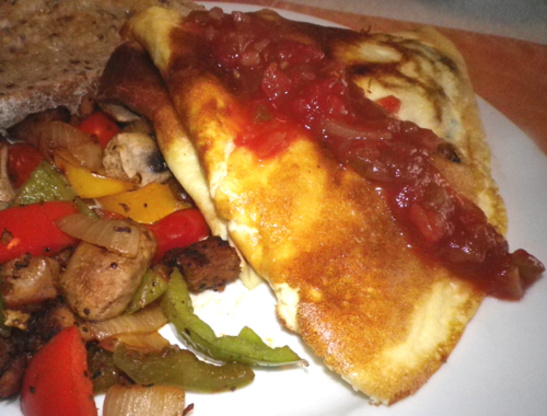 I make this on Saturday mornings and it is so easy, but tastes so great! Don't be afraid of the cottage cheese, it makes the eggs creamy and delicious. It's pretty enough to serve to guests!

Top Review by Bergy
Wonderful Omelet but I apologize I cooked it a bit differently - I had some left over cooked spinach so I put it on the pan first with chopped tomato poured in the egg mixture covered it and in 5 minutes it was ready and delicious! I always put cottage cheese in with the eggs when I make an omelet it gives them a lovely texture. Definatedly a do again recipe - Next time I will use fresh spinach & follow the recipe. Made again 26 Sept 01 This time I added the spinach inside the omelet with the cheese and served it with some salsa on top Enjoyed again.
Beat the eggs until frothy.
Add the salt, pepper, and cajun seasoning.
Stir in the cottage cheese.
Heat a medium skillet on medium-high and add the olive oil, making sure to coat bottom of skillet.
Add egg mixture and stir as if making scrambled eggs.
When eggs are half cooked, add fresh spinach,reduce heat, and cover.
When spinach is wilted (about 3 minutes) turn off heat and sprinkle with cheese.
Cover for about 2 more minutes, then serve.
You can also add chopped tomatoes to this recipe. Just be sure they are well drained (I use paper towels). Add them when you add the spinach.