Scrambled Eggs with Tortillas
AmyMCGS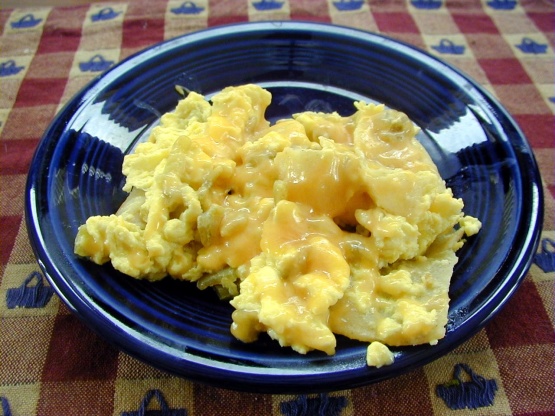 Years ago a friend of mine made eggs and tortillas for breakfast while I was visiting. I've been hooked ever since. My family doesn't ever want scrambled eggs. They always want eggs and tortillas. In fact, the only time I make plain scrambled eggs is when I am out of corn tortillas. It's a very simple recipe but it's very good.

I scaled the recipe down and made it with one egg, 1/2 T. milk and 1 flour tortilla. Wow! Was it good! I highly recommend this recipe.
Crack the eggs into a bowl and add milk.
Beat egg mixture with a fork until blended.
In a skillet, heat 2 tbs oil over medium heat.
Add tortilla triangles and lightly sprinkle with salt.
Saute the tortillas for about two minutes
Pour eggs mixture over tortillas, lightly sprinkle with more salt if desired.
Gently fold egg and tortilla mixture with a spatula about every 30 seconds until eggs are scrambled and set (Do not over cook).
Turn off heat.
Sprinkle with cheddar cheese.
Cover skillet with a lid for about two minutes or until the cheese has melted.
Serve with fresh or prepared salsa.