Scrambled Eggs With Tamales
lazyme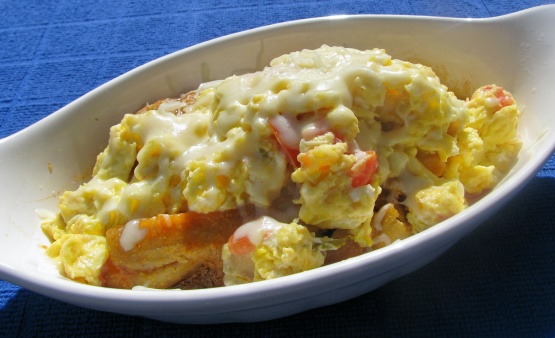 I like this recipe because it is different and not the usual egg dish. It is from The Treasury of Creative Cooking. Preparation time is an estimate.
Preheat oven to 350 degrees.
Drain tamales, reserving 1/2 of sauce from can.
Spray a 10 x 6 inch baking dish with cooking spray.
Remove paper wrappings from tamales.
Place tamales in a single layer in baking dish.
Cover with reserved sauce.
Bake 10 minutes or until heated through.
Whisk eggs, milk and salt. Set aside.
Melt butter in a large skillet over medium heat.
Add tomato, onion and chiles.
Cook for about 2 minutes until vegetables are heated through.
Add egg mixture.
Cook, stirring gently until eggs are soft set.
Remove tamales from oven and spoon eggs over tamales.
Sprinkle with cheese.
Broil 4 inches below heat 30 seconds or just until cheese melts.