Scrambled Eggs With Sliced Hot Dogs
Debbwl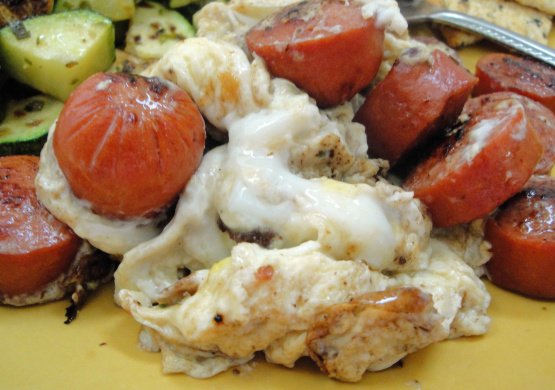 I really can't remember the first time I had eggs with hot dogs - I know it was many, many years ago. I think it comes from the days when we use to fry bologna slices. It's good with just the eggs and dogs, but also good with diced green bell peppers and diced onions with cheddar cheese. I serve this with orange slices, English muffins, and sliced tomatoes. Preparation and cooking times are an estimate.

Top Review by Debbwl
A quick and easy lunch that does take you back to your childhood, think it would be even better with the green bell pepper and onion mentioned in the description but sadly I made from memory so they did not make it in this time. Thanks for the post and next time will try adding some green pepper and onion.
Use 1 egg per 1 hot dog.
Beat egg and add 1 tablespoon water.
Slice hot dog into about 1/4 in slices and brown in a little vegetable oil.
Add beaten egg and stir to scramble together.
Add salt and pepper.
Just before egg mixture is completely cooked remove skillet to a hot pad. This should keep the egg mixture from getting too dry.