Scrambled Eggs With Flavor
Bergy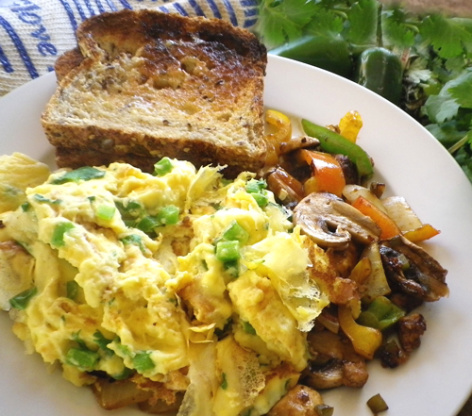 Scrambled eggs made this way is more of comfort food, the addition of fresh cilantro and flavorful fragant green chilli makes it a Sunday Brunch favorite Or as a side dish for a light evening meal , also good for those just getting over a fever, cold as it helps kick start the tastebuds again! I go all the way and make it with Butter- Note do not let the eggs get hard or dry by overcooking them. These can be served with Hot toast. Or as a filling in for a wholewheat wrap e.g. a tortilla or Indian flat bread cook the eggs a little more
4

large eggs

1 -2

medium green chili, chopped fine (the larger the chilli the less heat)

1

tablespoon butter

2

tablespoons water

1

teaspoon cooking oil
1⁄2 cup fresh cilantro, chopped
salt, to taste (if using salted butter use less salt)
In a bowl add eggs, salt, water and beat till whites and yolks are well blended. Fold in the chopped Cilantro & chillis.
In a skillet on medium heat add oil & butter till melted-- add the egg mixture, let the eggs cook and keep mixing with a slow movement till egg mixture takes shape ,keep folding, lightly stirring till mixture is not runny. Switch off the heat. The cooked eggs should have a sheen on the surface and should slip off easily from the skillet without sticking.
SERVE with hot toast no need to butter the toast.
Use it as a filling with a tortilla but you will have to cook the eggs a minute more.