Scrambled Eggs With Fines Herbes and Tomatoes
Bonnie G 2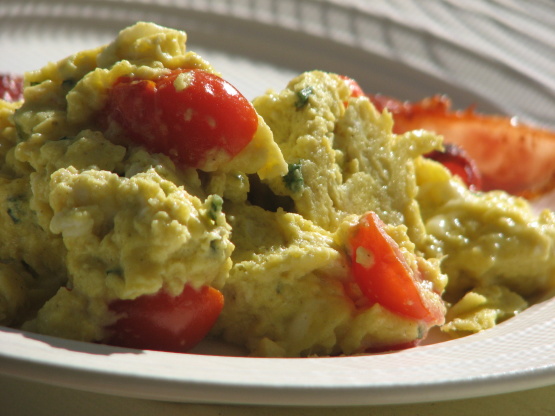 This is Wolfgang Puck's recipe from the Food network. I had some home grown tomatoes, and thought this would be a great breakfast, and it was! I did increase the quantity of fresh herbs, but you can reduce those to be more like his recipe. I also subbed creme fraiche for his heavy creme.

This was delicious! We used chopped grape tomatoes, fresh tarragon and fresh Thai basil. I highly recommend the tarragon - the flavor was perfect. We also substituted fat-free sour cream for the creme fraiche. Made for ZWT8 Family Picks.
Break the eggs into a large mixing bowl, reserving 2 yolks in a smaller separate bowl. Add the herbs (reserving a little for garnishing), salt and pepper to the large bowl of eggs. Mix with a whisk.
In the smaller bowl of egg yolks, whisk in the mustard and creme fraiche. Mix well.
Melt the butter in a large skillet. When melted, add the large bowl of eggs and cook, stirring constantly, until creamy and just barely thickened.
Add the yolk mixture and the tomatoes to the skillet. Stir once or twice to incorporate, and remove from the heat. They will continue to cook off the heat.
Prepare the plate, serve the eggs garnished with some of the herbs.