Scrambled Eggs, Not Runny, Not Watery, Hard Scrambled Eggs
Bergy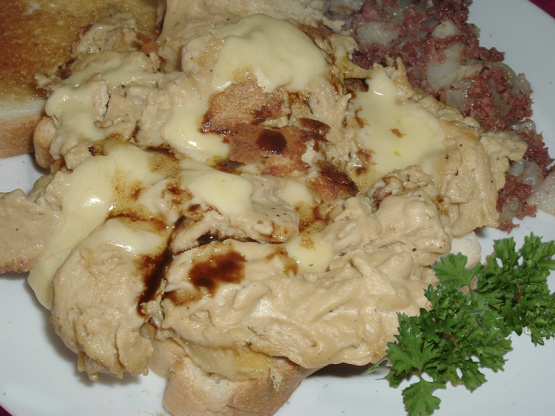 Ever had scrambled eggs at a restaurant? Ever tried making scrambled eggs before? Runny? Watery? Unappetizing? Well, not anymore!

These were, without doubt, the most VILE scrambled eggs.......FOOD, for that matter......that we've had for years. One bite was more than enough. The color, flavor and consistancy were all hopeless. Color:dung brown. Flavor: worstershire/mustard. Consistancy: somewhere between polenta and fried calve's brains. Although I'd like to make some constructive suggestion as to how to improve them, I wouldn't know where to start.
Mix milk, cornflour, Worcestershire sauce, Tabasco, salt, pepper and mustard together.
Break eggs and whisk until mixed.
Whisk in the milk mix.
Heat the butter until melted in a *VERY* heavy based pan.
When butter is hot pour in the eggs, stirring continually with a *METAL* spoon.
Go around the edges and then scrape the bottom of the pan.
The eggs will coagulate and thicken.
When there is no liquid left turn the heat down low and add the cheese.
Stir until cheese is melted.
Toast the bread and butter it.
Dollop your eggs onto the bread and splash a little Worcestershire sauce over them.
Eat immediately.