Scrambled Eggs in the Microwave (Great for Work!)
ImPat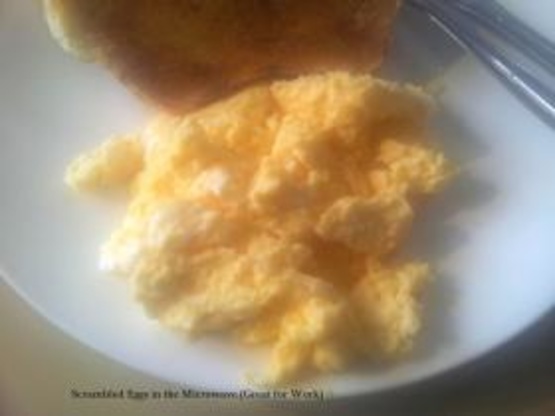 I can only eat so much oatmeal and peanut butter toast without getting bored. I started making scrambled eggs in the microwave to break up the breakfast monotomy at work! I serve these alongside a piece of whole wheat toast and a glass of vegetable juice. In order to cut down on unhealthy cholesterol but keep the healthy protein, I use only one egg yolk; three works fine too (just increase the water [or milk] to 3 T). I'll sometimes make these at home when I need a quick breakfast.

Top Review by ImPat
I used 2 large whole eggs and in a 900 watt microwave they took 30 seconds and 4 lots of 15 seconds (1.5 minutes total)and as the microwave pinged my toast popped up, both coming together beautifully, thank you Robyn's Cookin', made for Name that Ingredient tag game,
1

large egg, including yolk

2

egg whites
salt and pepper (I like to use jalapeno salt by Anthony Spices)
Combine all ingredients in a microwave safe bowl.
Scramble well with a fork.
Microwave on high for 30 seconds.
Stir.
Microwave on high for 15 seconds.
Stir.
Continue microwaving on high for 15-second increments until cooked to your liking.