Scrambled Eggs Hotel Style... Very Simple
lazyme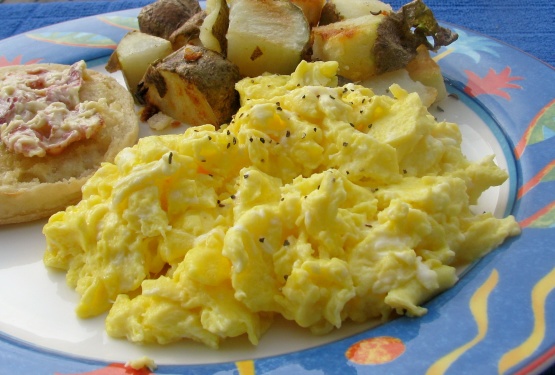 When I was a newlywed 15 years ago, I burned eggs every time I made them and the only way to get GOOD scrambled eggs was to go out for them. One day I saw a cooking show and it changed how I made eggs. Today my whole family loves this fluffy, delicious breakfast dish. My own mother who is a great cook extraordinaire loves these and when she just recently learned the secret was shocked at how simple it is. So without further ado, here is the recipe for Hotel Style Eggs

This makes excellent eggs, Please ignore the review that says NEVER add water. I''ve heard many times over that adding cold water and whisking the eggs gets more air whipped in to make fluffy and tender eggs! It has nothing to do with feeding more people and saving money! The proportions are perfect for the egg/water/butter mix. I will remember this from now on! Thanks for posting Robyn! Made for When It's Hot Tag Game.
In a medium mixing bowl crack 6 large eggs into the bowl and then add 6 tablespoons of cold tap water. Beat together, then add to a non stick pan with 2 tablespoons of margarine or whipped butter.
Cook over medium heat and be vigilant by constantly stirring. When done, sprinkle with your desired amount of salt and pepper.
* Tip for lesser eggs or more eggs per batches.
The key is to always add one tablespoon of water per egg and one teaspoon of margarine or whipped butter per egg.