Scrambled Eggs and Mushrooms (1953)
ImPat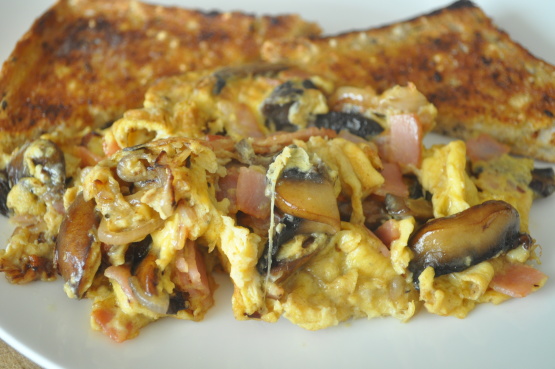 This is one of a number of historical recipes I am posting from my cookbook collection. It is adapted from the 1953 edition of Adventures in Good Cooking, by traveling salesman and food critic Duncan Hines, and featuring recipes collected from around the USA. This recipe is from Al Carder's restaurant in Chicago Illinois.
This was a nice dinner for me. I used pastrami instead of bacon and didn't use onions. It was fine and fulfilling. I liked it and I would do it again.
Whip eggs and stir in butter.
Place bacon in a skillet and fry until crisp.
Remove bacon but leave drippings in pan.
Add mushrooms to drippings.
Cover and cook for 15 minutes.
Remove cover and cook until browned.
Stir bacon pieces and onion into egg mixture.
Add egg mixture to hot pan and cook stirring, until eggs are set and cooked to your liking.
Season to taste.