Scrambled Eggs and Capsicum
Peter J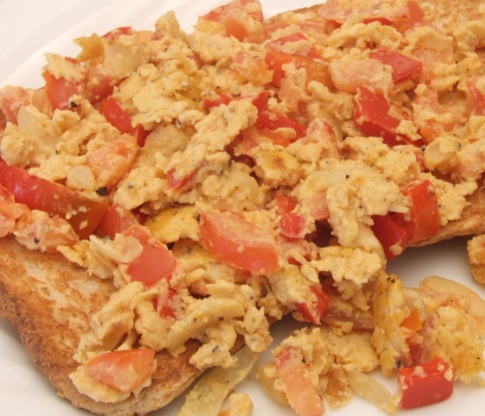 A very easy dish to make. Good to have for a brunch or lunch. We used to make this when we were away camping, as it is very easy to put together and tasty.

Very tasty combination of flavours and really quick to make. While it came out well about the only change I'd make is to add just a little butter and/or a splash of milk, I think that would help blend the flavours a little more and lighten it up just a fraction.
Barbeque the capsicums (or oven bake them)until the skin is blistering away from the flesh - the capsicum flesh needs to be still be firm enough to dice into pieces. Remove from heat, cool and peel the skin from the flesh. Discard the skin and dice up the flesh.
Beat together the eggs.
Chop the tomatoes into small pieces.
Pan fry in a large frypan the chopped onion.
Add all remaining ingredients, eggs, capsicum, tomato, garlic powder, salt and pepper.
Scramble together as if you were doing scrambled eggs.
Remove from heat and serve with toasted bread or bread rolls.