Outta Here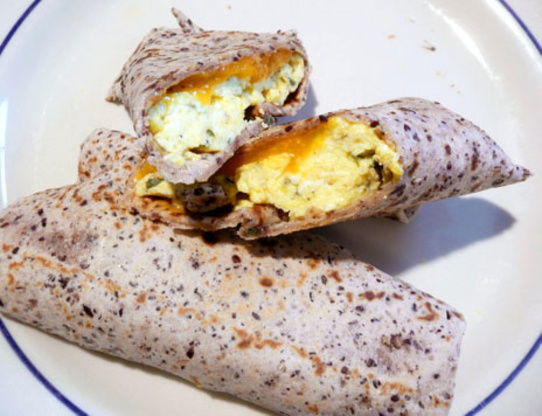 I am saving this one for our next camping trip, but this is also a great recipe for a quick, filling breakfast or light lunch. This recipe is very versatile and you can add any herb or vegetable to the eggs or as a topping. Suggestion -green onions, hot sauce, tomatoes etc UPDATE: We made this recipe for breakfast while camping this summer and it was just amazing.

Very quick breakfast (and easy). I subbed chopped chives for the red pepper and used whole wheat/black bean tortillas. Next time I saute mushrooms for a side dish, I will make enough to save for adding to this recipe.
In large skillet, heat oil over medium heat; cook red pepper until slightly softened, about 3 minutes.
Whisk together eggs, milk, salt and pepper; pour into pan and cook, drawing spatula across bottom of pan to form large soft curds, until eggs are thickened and moist but no liquid remains, about 4 minutes.
Sprinkle cheese down centre of each tortilla; spoon 1/3 cup (75 mL) of the egg mixture over cheese. Fold top and bottom of tortilla over filling; fold in sides to form rectangle. Place, seam side down, in skillet; fry, turning once, until tortillas are crisp and golden, about 4 minutes.